2022-2023 University of Kentucky Tour Guides
The Visitor Center shares authentic experiences by introducing our guests to a compassionate, dedicated, and enthusiastic University of Kentucky community. We foster a culture of welcome that begins with a visitor's first steps on campus and lasts far beyond a single visit. We can't wait to welcome you to the Big Blue Nation.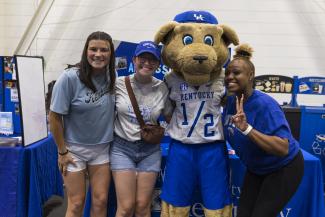 Interested in joining our team?
University of Kentucky Tour Guide
Visitor Center Tour Guides roll out the Big Blue Carpet to campus guests and serve as the "first face" of the University of Kentucky. As student ambassadors for the Office of Undergraduate Admission and the University at large, Tour Guides represent the Big Blue Nation to prospective students, their guests, and other campus visitors by sharing their own unique UK story.  
Applications for this position open in October and March on the UK Student Jobs website. The application process is highly competitive.
Wildcat Ambassador
The Wildcat Ambassador Student Organization is a branch of the Visitor Center. In this volunteer role, students can assist in recruitment events hosted by the Visitor Center and the Office of Undergraduate Admission. Serving as a Wildcat Ambassador can help a student acquire valuable skills in undergraduate recruitment and is a great first step in gaining experience to apply to be a Visitor Center Tour Guide.
Current students can apply to become a part of the Wildcat Ambassador program through BBNvolved.