Visitor Center Tour Guides roll out the Big Blue Carpet to campus visitors and serve as the "first face" of the University of Kentucky to over 30,000 guests of the university each year. As student ambassadors for the Office of Undergraduate Admission and the University at large, Tour Guides represent the Big Blue Nation to prospective students, their guests, and other campus visitors by sharing their own unique UK story.  
Visitor Center employees have a wide range of duties which include, but are not limited to, serving as campus tour guides as well as student recruiters at university events. Staff members also assist with day-to-day operations at the Visitor Center, including phone and email inquiries, campus visit registration, greeting university guests, and other duties as assigned. Employees of the Visitor Center are committed to representing the compassionate, dedicated, and enthusiastic University of Kentucky community.
The application for Spring 2022 will open on October 18 and will close on November 22, 2021. Apply here. 
Oct. 15 - Nov. 24
Spring 2022 Application Window
Questions about the position? Email us.
Qualifications
Must be a full-time UK student for Spring 2022
Must be able to relate to all guests of the university
Should passionately and genuinely represent the culture of campus
Needs strong public speaking skills; Should be proactive, detail oriented, reliable, highly motivated
Must work closely with other Visitor Center staff members and positively contribute to the team environment
Per the University's hiring policy, applicants must be vaccinated against COVID-19.
Expectations
Must commit to attending Spring 2022 Staff training 

January 10 (4 - 9 p.m.)
January 11 (5 - 9 p.m.)

Must complete Tour and Office training and certification process by the end of Spring 2022
Expect to work 2 - 6 hours per week; schedule is flexible to your class schedule
Attend select UK Recruitment events in Spring and Fall; transportation provided if necessary
Benefits
Paid for training and time worked at a rate of $7.25 per hour (Federal Work Study available)

Branded University of Kentucky Visitor Center uniform tops will be provided

Unique opportunities to attend University events and network with campus constituents

Development of leadership and communication skills that will serve you in your future career goals

Extremely tight-knit team environment and opportunity for lifelong friendships
University Community of Inclusion
The University of Kentucky is committed to a diverse and inclusive workforce by ensuring all our students, faculty, and staff work in an environment of openness and acceptance. We strive to foster a community where people of all backgrounds, identities, and perspectives can feel secure and welcome. We also value the well-being of each of our employees and are dedicated to creating a healthy place to work, learn and live. In the interest of maintaining a safe and healthy environment for our students, employees, patients and visitors the University of Kentucky is a Tobacco & Drug Free campus.
As an Equal Opportunity Employer, we strongly encourage veterans, individuals with disabilities, women, and all minorities to consider our employment opportunities.
Any candidate offered a position may be required to pass pre-employment screenings as mandated by University of Kentucky Human Resources. These screenings may include a national background check and/or drug screen.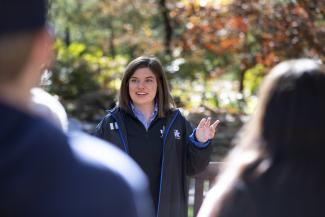 Visitor Center Mission Statement
The Visitor Center shares authentic experiences by introducing our guests to a compassionate, dedicated, and enthusiastic University of Kentucky community. We foster a culture of welcome that begins with a visitor's first steps on campus and lasts far beyond a single visit.
Adopted August 23, 2019 by the Fall 2019 Class of Tour Guides
Developed by the Fall 2018 Class of Tour Guides and 2019-2020 Leadership Team 
Looking for information about the Orientation Leader job? Visit this page. Visitor Center Tour Guides may also serve as Orientation Leaders.